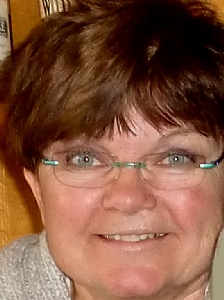 Carol Nelson Biography/Statement 2013

I live to be creative. I am inspired by things I see around me - a line, a shadow, a texture, a color. Form and shape and how color masses interact - it's all part of what gets me going in a creative pursuit. I get most of my creative ideas early in the morning when I'm half way between sleep and wakefullness.
My style goes from realism to abstraction. I love doing both. When I've been doing several realistic paintings in a row, an urge to "play" with my paints and materials begins to grow. Abstract painting is completely different from realistic painting. Since there is no scene before me, no flower, animal, or still life to look at, where does the painting come from? That's the creative part of me.
I've been painting for over 10 years. Yes, I started out as an art major many years ago, but the majority of my adult life has not been spent in front of an easel. Once I started focusing on painting, however, things began to happen fast.
In the past several years, I've become a teacher of others. Since I love to experiment with different materials, other artists come to me to learn some of the techniques I've developed for my abstract work. I love sharing what I've learned with other artists through classes and workshops around the country. In addition to workshops, I also offer private and semiprivate lessons in my studio near Denver, Colorado.

My work has been collected by individuals, corporations and civic entities. They find me by word of mouth, art shows, galleries, exhibitions, and an ever expanding internet presence. The internet has had a profound impact on the marketing of art around the world. It is not uncommon for me to receive almost daily inquiries from many corners of the earth - several of which have resulted in sales.
So welcome to my website. Everything is devided into categories according to painting style and/or subject matter. The "small paintings " is a very diverse collection and defined only by size. You'll find abstracts, flowers, horses, teapots - you name it. They are priced for someone starting their collection or someone looking to add a splash of color in a certain spot in their home.
Be sure to sign up for my free e-newsletter. I'll never share your email address with anyone, and I won't bombard your inbox with trivia. I just send out 8-10 newsletters a year when I have something new, or possibly earth shattering, to tell you about. Thanks for visiting. Feel free to bookmark this site and forward it to friends.

email: carolnelsonfineart@comcast.net
blog: carolnelsonfineart.blogspot.com