Contemporary Mixed Media Acrylic Paintings
Welcome to my website!

I am a Colorado contemporary mixed media painter and art instructor. My abstract work is full of vibrant color and unusual textures. I like to use metals, metal foils, and metal leaf in my work. My process involves applying layers of color and texture to create an intricate and complex statement.
The influence of the western landscape is often apparent in my work. Many of my paintings fit into my "Geologic Abstraction" series or my "Gemstone" series. They are inspired by the rocks, cliffs, canyons and landscapes of the west. My floral and mixed media landscape paintings are my tribute to the beauty of nature.

The textural element of my work is important to me. I work on panel and canvas. I invite the viewer to use not only their visual sense, but also their tactile sense to experience my paintings.

Please click here to visit my blog for my personal commentary on my latest work.
My email address is carol@carolnelsonfineart.com, or call me 303-699-2542

Thank you for viewing my work.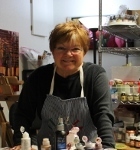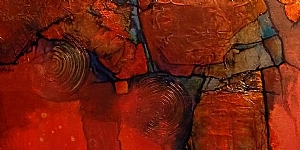 For AK, HI, and international shipping rates, please contact me by email at carol@carolnelsonfineart.com
All work on this site is copyright Carol Nelson Fine Art and may not be reproduced without written consent of the artist.